If you find this site loads slowly, a fast server is available here.
Where: San Francisco to San Diego and back, a total distance of 1400nm over a 5 month period.

When: April to August 2005

Who: Me single-handing blue water passages and family visiting at fun stops and for summer vacation.

What: 'Nino' 1981 Islander Bahama 30 sloop.

Why: If you're considering getting a sailboat to go coastal cruising, this is the information I wish I had when I started out. The information below is all my own opinion, its not based on any group consensus or intended to make everyone happy. I hope to inspire others to do the same.
Islander Bahama with network wifi gps radar netstumbler autopilot
Contents

Chapters

Central California Stops

Southern California stops
owning a boat, buying a boat, fixing a boat
If you want to discover the real California, its amazing coastal scenery, find out about its history and see its incredible sea life, take a boat trip down the coast. You see a completely different view than from the shore side and get a chance to get in touch with how the early Californians lived. The Big Sur coastline has to be seen to be believed especially at sunrise and sunset. Dolphins playing around the boat, whales the size of apartment blocks jumping clear of the water and birds hitching a ride on the boat are all included.

My family joined me on the boat for over 2 months in total. We never complain about the house being too small anymore.

I'm a family man originally from England, who moved to Italy then Switzerland and finally settled in California in 1994. I have a small computer software security business and originally came to California for the windsurfing. Last year I needed to find a new hobby after destroying my leg racing motocross and took up sailing. Found a good boat, learnt all I could absorb, took the A.S.A. sailing courses and made a plan. Within 9 months of getting my first boat I had it setup and cast off for southern California. This is my story.
A Scrapbook of my favorite photos taken during the cruise can be found here.
S/V 'Nino' sailing north to Santa Barbara harbor. Captain 'Joe' aboard. Sailed this leg with another single-hander in his RoughWater 32 and we took pictures of each other with full sails up.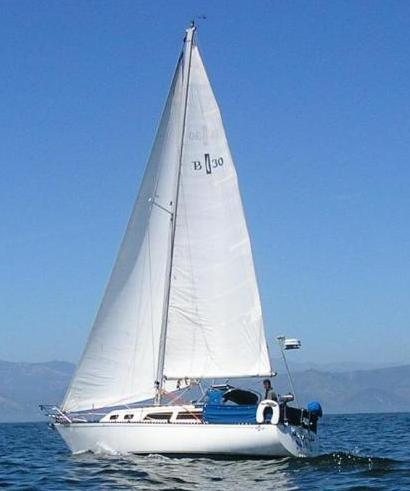 If you have any questions or suggestions, please email joe@inetd.com
or write your anonymous comments in the box below and press 'Submit'.

I would really appreciate your feedback.

The message will be send directly to my Treo600 PDA phone
which provided me with Internet access throughout my entire trip.

Overview: Bought the 1981 Islander Bahama 30 in July 2004, learnt how to sail it, spent 6 months planning the trip, preparing the boat and cast off April 9th from Port of Redwood City marina in the San Francisco south bay. Reached San Diego in August after visiting every marina and anchorage in between, over 40 stops in total. Returned home to San Francisco bay August 15th after a 600nm, 9day continuous trip north.
Round trip cookie trail of the north and south passages. Green diamonds are places visited. This route is taken from the Garmin GPSmap 276C cookie trail and loaded into the Bluechart PC software that comes with the GPS. The outward trail is generally the return passage. Here is a google earth view. You can see any of the locations below in detail with the GoogleEarth tool. Its incredibly detailed and fantastic for route planning. You can measure multihop routes in nautical miles and see all the anchorages with rocks, kelp and shoaling, even ocean swells visible.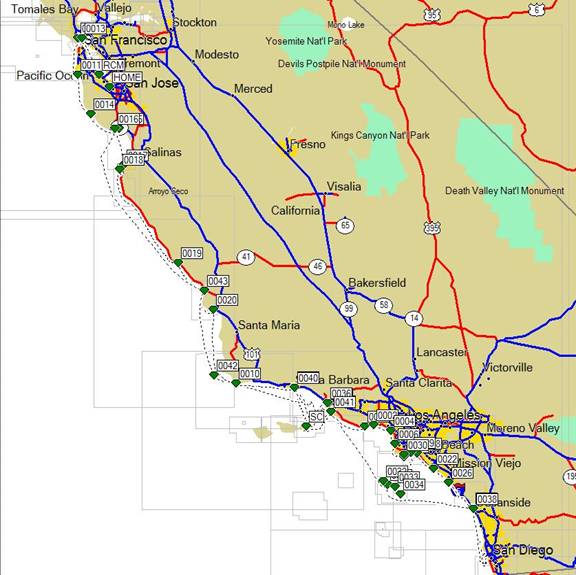 Full list of routes/stops (in approximate North / South order):
| | |
| --- | --- |
| | Redwood City, San Francisco bay. (old home slip). The most southerly marina in the bay. Its takes about 4 hours to get to the city with the ebb tide working for you. Spinnaker sailing school is here and Bob Diamond will help you get started and out in a boat as fast as you want. Bob also set me up with the boat in the Virgin Islands thro the Moorings. |
| | |
| --- | --- |
| | Schoonmaker marina, Sausalito, San Francisco bay (side tie). My favorite spot in the SF bay for overnights and weekends with the family. Good beach and easy access to good restaurants nearby. Plenty of history and lots to do here. Fantastic breakfast at the lighthouse. Nights at the local pizza house with live music. |
| | |
| --- | --- |
| | Halfmoon Bay (slip & anchor). The first stop south after leaving Frisco bay. A huge protected anchorage and a real fishing village atmosphere make this a great place to visit and explore. Good restaurants ashore. Make sure you have a good dinghy flashlight to get back in the dark. I hung an small ACR strobe in the rigging to watch the boat from ashore. I tried other lights but I couldn't see them from shore. |
| | |
| --- | --- |
| | Ano Nuevo (anchor). Just a temporary anchorage for lunch behind the kelp beds. Part of the animal reserve and breeding grounds. A total wilderness. Outstanding beauty. Go downwind of the abandoned buildings on Ano Nuevo Island for a surprise! |
| | |
| --- | --- |
| | Santa Cruz pier (hove to). You can see the board walk and fun-fair behind the pier, Often boats are washed up on the beach when a southerly front goes thro, not a place to leave the boat unattended. Here is an aerial view of the Pier and the harbor. |
| | |
| --- | --- |
| | Santa Cruz harbor (slip). A great place for the family to visit and easy access to restaurants, great beaches and downtown with the boardwalk. I stayed here for over a week and hope to return soon. Visit the O'Neal surfing empire. Half price lunches at the beachfront restaurants during the week keep the crew happy. |
| | |
| --- | --- |
| | Capitola (mooring ball). Very exposed and windy at times, just a mooring ball and limited beach access via a ramp on the pier that's only open during the summer season. A beautiful location. Get ashore and visit this town, its very different and has an exclusive feel to it. |
| | |
| --- | --- |
| | Monterey harbor (slip & mooring ball). The #1 feature here is the clarity of the water. I never saw anything close on my trip. You can see down 20ft like its glass. Wildlife everywhere, especially in the bay and all around the boat. Its like berthing in a zoo. Great facilities for the family. Visit the aquarium while in town. |
| | |
| --- | --- |
| | Stillwater cove, Carmel bay (anchor). No beach access but a chance to see how the billionaires live at Pebble beach as you are anchored in their back yards. I had the entire place to myself and had the best view of any mansion ashore. There is an unbelievable sign on the nearby beach that requests you to 'only walk and not stop'. |
| | |
| --- | --- |
| | Whalers Cove, Carmel bay (hove to). I was going to stop here but it was full of kelp and infested with sand flies built like tanks. I swear they laughed at me when I tried to swat them. This could be a great safe harbor in a southerly blow and believe it was at one time, but its only suitable in an emergency as it is. |
| | |
| --- | --- |
| | San Simeon, Hurst castle (anchor). The nicest protected anchorage during the summer prevailing weather. Incredible natural beauty, I got rolled trying to beach my dinghy in the south swell, otherwise it was perfect. If you can get ashore dry, visit Hearst castle, my old summer cabin up on the hill. |
| | |
| --- | --- |
| | Morro Bay yacht club (side tie). The friendliest and most helpful town on the trip. I got so many offers of help here I was overwhelmed. A beautiful bay and sand dunes for the kids to play in. Lots of restaurants and a great Chinese 'all you can eat' lunch buffet opposite the yacht club for $7! Nice downtown a short walk up the hill. |
| | |
| --- | --- |
| | Port San Luis (anchor). Howling wind and very little facilities, very limited shore access, the mooring balls here are in open ocean, they are so exposed. I anchored off the pier and left at midnight to round Pt Conception. Huge swells racing across the horizon in the twilight are a sight to be believed. They are like giant sharks teeth. This was the toughest leg of the whole trip and took a lot of preparation. |
| | |
| --- | --- |
| | Cojo Anchorage, Point Conception (anchor). The most historic anchorage on the trip. Its so remote here. This is the gateway that divides north and south California and you can see it. Its freezing cold and stormy 100 yards north. You can now put on your shorts and tee shirt until you return here later. |
| | |
| --- | --- |
| | Santa Barbara (slip). This marina has the nicest docks and scrub them clean daily. Great beaches and downtown. Very livable and fantastic views. I spent over 2 weeks here it was so nice. You will consider living here or want to send your kids to college here so you can visit them. Allow lots of time to tour the maritime museum. |
| | |
| --- | --- |
| | Ventura harbor (slip). The most expensive slips of the trip at $30 a night. The harbor master finds you a spot in one of 3 yacht clubs. Nice facilities and design. Good shops and restaurants nearby. The best 'fish & chips' on the coast found here. |
| | |
| --- | --- |
| | Channel Islands marina (slip). A huge marina with a working feel to it. Reasonable rates and every facility imaginable. Its too big to explore by dinghy and the guest docks are way down one side. Restaurants and a general store close by. A donut shop! Great for working on the boat with all the yards close at hand. |
| | |
| --- | --- |
| | Smugglers cove, Santa Cruz island (anchor). Just an semi protected anchorage with no facilities or easy beach access. I had a very rolly night here from a south swell. Incredible views and lots of fish. No donut stores here, you can have complete isolation and imagine you have just discovered California. Aerial view. |
| | |
| --- | --- |
| | Yellow Banks, Santa Cruz island (anchor). Right next to Smugglers cove, same sort of anchorage as above. I just stopped here for lunch. Bring in everything you need to survive here. If its calm or if you have crew you can get ashore during the day without a permit. Its the best way to see the islands. See aerial view above. |
| | |
| --- | --- |
| | Paradise Cove, Santa Monica (anchor). A very pretty coastal town with exclusive beach homes. No shore access if the swell is up, but I stayed the night here before heading south. Flat water but very windy in the afternoon. Unfortunately there is not many places like this down south. |
| | |
| --- | --- |
| | Santa Monica Pier, Santa Monica (anchor). Watched the surfers while I had lunch and tinkered with the engine. No shore access due to a reasonable swell. I anchored just south of the pier, see photo. |
| | |
| --- | --- |
| | Marina Del Ray (slip). The biggest marina in the world. Every facility imaginable. Easy access to Venice beach which is typical California. Huge schools of jelly fish at one end of the harbor. Saw racing s/v PyeWacket hauled out in a yard. 2 Westmarine stores. Great guest docks. Regular harbor taxi service is handy and only $2 each way. This place is massive, expect highway 101 congestion only with boats! |
| | |
| --- | --- |
| | Redondo Beach (anchor). The yacht club was full and I anchored bow/stern behind the sea wall. Very calm. Unusual pier atmosphere and odd mix of shops/bars etc. Long walk to get groceries, not very cruiser friendly. I had foggy weather the whole time I was here, so maybe that tainted my memory. |
| | |
| --- | --- |
| | Cabrillo Beach, Los Angeles harbor (anchor). The biggest man-made harbor in the world, but nothing for cruisers! I found a temporary anchorage at the north end at Cabrillo beach while they filmed 'The O.C.' in the background. Had to get a police permit to anchor. The police boat checked my background and boat ownership! |
| | |
| --- | --- |
| | Long beach harbor village, Los Angeles (side tie). This is the only tie up for cruisers in all of LA harbor, you can stay for a few hours and get lunch in the newly rebuilt village. The 'YardHouse' restaurant is very good. I heard the city went bankrupt rebuilding the dock area. I would return here. |
| | |
| --- | --- |
| | Long beach harbor, Los Angeles (slip) I met up with a friend who let me borrow his slip here for a few days. Its opposite the ship 'Queen Mary' and a good aquarium. Also a permanent fair which the kids liked. Nice downtown. Just 5 minutes round the corner from the village above. |
| | |
| --- | --- |
| | Alamitos harbor, Los Angeles (slip). The dirtiest harbor on the whole trip. Piles of trash at the leeward end of each marina. A definite lack of pride here. Also one of the few docks without a gate. Average restaurants at the marina, but a large shopping center across a busy highway where Mimi's cafe has a great breakfast. |
| | |
| --- | --- |
| | Isthmus, Catalina Island (mooring ball). My favorite harbor with the most cruiser friendly layout. A true pacific island in our own backyard. I cant believe how quiet it was there even thro July 4th weekend. Its only 25nm from LA! Our kids had the best time. Very friendly and helpful staff. Everything you need to just drop out and relax. |
| | |
| --- | --- |
| | Cat Harbor, Catalina Island (anchor). The most dramatic entrance of all the harbors, you need to sail round the back (west) of the island to get there. Plenty of free anchorage space and very protected. Easy half mile walk to the Isthmus facilities. I stopped here on the way home. |
| | |
| --- | --- |
| | Parsons landing, Catalina Island (anchor). An undeveloped anchorage. We beached the dinghy and found a freshwater stream running down the mountain. Our first private beach. Catalina has so much to offer outside the tourist areas. You can choose your flavor at Catalina, from one extreme to the other. |
| | |
| --- | --- |
| | Goat harbor, Catalina Island (anchor). Stopped here on the way down to Avalon, amazing scenery and all to ourselves, the day after July 4th! Found another freshwater stream running down the mountain to the sea. This is pure cruising heaven, everything I imagined it would be. |
| | |
| --- | --- |
| | Avalon harbor, Catalina Island (mooring ball). The only town on the Channel islands. A great tourist destination with all you expect. South of France (San Tropez?) style harbor. So many old people in boats. A floating geriatric asylum! Get out and do this while you still don't need a catheter. Its a free comedy show watching grannies try to tie up and dinghy ashore. |
| | |
| --- | --- |
| | Newport beach (mooring ball and slip). A huge harbor with amazing beach homes you can only dream of. Plentiful $5 mooring balls are great, but with zero facilities. Guest slips at Sheriff's dock with clean facilities and small beach. Lots to do and see. Easy access to the beaches. Boat races in the harbor. Lots of sea life. A must see destination. Short trip to Disney Land. |
| | |
| --- | --- |
| | Dana point (slip). An historic port. Read '2 years before the mast' by Henry Dana and see a replica of his ship. Great beach for kids and lots of good shops/restaurants. Natural history museum. Clear warm water. Lots of pride in this marina, they do it right here. One of the few marinas you can reserve slips ahead of time. |
| | |
| --- | --- |
| | Ocean Side (slip). Busy tourist town with an old working town feel to it. Great Wharf area next to the small guest slips with lots of tourist style shops and easy access to a fun beach. Great surf and sand. Big historical pier with Diner at the end. |
| | |
| --- | --- |
| | Mariners cove, Mission Bay, San Diego (anchor). Free (3 day) anchorage in pretty setting near a big fair with rollercoaster's etc. Huge popular beach with the most tourists I ever saw. Homeless people in the park. No facilities. Beach dinghy to get ashore. Short walk to Sea world. |
| | |
| --- | --- |
| | Shelter Island, San Diego (slip). Nice facilities at the police/immigration docks for $10 a night, in a very pretty setting. Long walk to shops. Lots of other places to visit by boat in San Diego bay, plus a couple of free anchorages in other parts of the Bay at the weekend. I intend to explore this area more on my next trip. |
| | |
| --- | --- |
| | Bair Island Marina, San Francisco bay. (new home slip). They just built this new facility and its my new home for 'Nino'. Now to prepare for my next trip. I'm thinking North to Seattle or down to Catalina again and maybe Mexico. It could happen in summer 2007 but I will let you know. Its about choices after all. |
From the information I read when I started out it appeared California was not a great place to go cruising and I needed to go to the West Indies or the east coast to find something suitable. It turns out that California is great if you follow some basic rules and know what to expect. Just between San Francisco bay and the Mexican border I stopped at over 40 marinas and anchorages and I didn't do all of them. Everything between quaint fishing villages to fancy marinas to Pacific islands. There is plenty to see and do here. At 40 ports of call, I made more stops and visited more harbors than some people do when they circumnavigate the world. If you cant enjoy sailing California you wont enjoy it anywhere else. A huge advantage is you are so close to home and for me, that made it very attractive as my first cruise.
Sailing California today with all the technology and weather information available makes it infinitely more practical and safe, even single handing. You are standing on the shoulders of giants as you undertake a voyage that would have been considered a major challenge to a seasoned veteran not long ago. You have a virtual crew with you at all times that never complains, needs sleep or feeding. I'm talking about the GPS, chart plotter, autopilot, RADAR, EPIRB and the fantastic VHF coverage by the coastguard. You're also in US waters which means there are good 'aids to navigation' and emergency coverage that is 'frothing at the bit' to come and rescue you if a real problem occurred on your boat. After listening to the coast guard for many months on the VHF channel 16 I get the impression they cant wait to try out all their amazing rescue toys on a real emergency instead of saving yet another drunken power boater returning from Avalon who has run out of fuel.
The downwind sail to southern California in the spring is the best sailing I have ever done. Surfing down endless pacific swells with the sun on your back and all the sails taught from a fresh, consistent and predictable wind is priceless. The pure and untouched scenery is all around you complemented by the raw behavior of the sea life living in its natural surroundings. Unknown adventures lay ahead and my enthusiasm was boundless at times. You arrive in each new port grinning from ear to ear and full of stories of your day. You leave each port with the sincere best wishes of all you have met. Each day was a new adventure and often involved making key decisions that had an immediate and possibly catastrophic impact on your life. It was very exciting and refreshing, just what I needed.
Make sure you have your boat registration with you, every port south of Conception wanted to see it. Sometimes they requested proof of insurance. Also I had occasional trouble with my dinghy not having CF numbers on it when I used it with the outboard motor.
Two places (Santa Barbara and Avalon) put dye tablets in my holding tank to stop you discharging into the water. Other places said they were going to start to do the same in the future also. Alamitos Bay saved you the trouble and threw the dye tablet directly in the marina, including the wrapper (only kidding).
Every place we visited was distinctly different and had it own style and procedures. If you have a boat in California and not cruised the coast, you are missing out on one of the best vacations you could have. After 2 months on the boat my kids didn't want to leave. Nino became their home. They didn't have the same opinion after just a week in Hawaii or the Bahamas when we stayed in a hotel, then they kept asking when we were going home or could they watch TV!
I was amazed by the wildlife, Monterey bay is quite spectacular in the spring time with all the migrating whales and packs of dolphins, seals, otters etc etc. Seeing how many birds there are 20 miles out from the Big Sur coast surprised me, there is a whole new world out there I didn't know about. There was so many animals going about their business with no land in sight and no other boats around that I felt like a guest in another world. For the first time I felt like I was intruding on their space and not being in mine. Quite unexpected. That day 2 huge whales, I mean massive, jumped clear of the water and caused a nuclear explosion on landing. I had to rub my eyes to believe it. I have never seen an animal so big, an elephant seemed like a mouse in comparison.
Watching the dolphins you first think they are very playful, but don't be fooled by their puppy faced looks, they are on the hunt for food. I'm sure the boat sound like an animal in distress and that's why they always seem to be around the boat. When you see a huge pack of dolphins all jumping out of the water and making a lot of turbulence, you begin to see the main group have encircled an unfortunate school of fish while the assigned killers go thro the entrapped fish and make an easy kill. You can always spot this happening by the flock of sea birds that follow the dolphins on their hunt and clearing up the carnage left behind.
The Islander brand was recommended to me as it's a popular San Francisco bay boat that can take the windy weather here and is generally well built. I found one locally that had been well looked after and only had 700hrs on the Volvo engine. Just like most boats, it had been outfitted for cruising but had rarely left the harbor. I was the fourth owner and was intent on using it for what it was built for … cruising!
We named it 'Nino' after a cool cat we had in Italy. He was built like a bulldog and would chase dogs. He moved with us to Switzerland and even flew to California but was unfortunately killed in a freak accident. It seemed a fitting name for the boat. Choose a short name for your boat, the coast guard and harbor master will be nicer to you if he doesn't have to repeat a moronic name 3 times every time you call up on the radio.
Overall its been a fantastic boat, I'm sure I could have done the trip on many other brands and/or different length of boat and had fun, but the key was to actually go and do it, I could easily have spent over $100,000 or more on a newer boat and had exactly the same vacation, but I spent a fraction of that. My view is that this 30ft boat is the smallest size boat with all the features of a big boat, i.e. binnacle, inboard diesel, head and holding tank, gas oven, 3 berths and a full electrical system that can support all the necessary gadgets. The advantage is that a small boat is way easier to handle and easier to maintain and you can get places you can't in a bigger boat. Additionally, you get treated differently in a smaller, older boat than you do in a big new boat. People go out of their way to assist you, but frown upon the big new boat owner like he was driving a new gas guzzling Hummer SUV or even a (gasp) power boater.
My 2 small kids (girls 6 & 8) shared the v-berth and we closed the door on them at night, this worked great as we could stay up late and still use the head without disturbing them. The kids slept so well on the boat, better than I have ever known, they never complained about the motion of the boat. Small kids seem to adapt to boat life so easily, it's almost a second nature to them, far easier than adults do. They were mesmerized by the wildlife we encountered on the trip and I'm sure it will have a lasting memory on them.
Took and passed

ASA

keelboat, coastal cruising and bareboat charter certifications.

Read everything I could about cruising on the internet.

Read everything I could find about islander boats on the internet (

sailnet.net

islander owners group)

Read lots of books on single handing and sailing.

Bought 2 cruising guides.

Asked every sailor I met about boats and cruising.

Set a key word of sailing on the '

TiVo

' to find any sailing related TV shows.

Sailed single-handed 200nm around the San Francisco bay and delta (Oct 04) on a 5 day cruise.

Sailed lots of trips to the city and around the central bay with many overnight stops.

Took a 5 day sail vacation to Sausalito with the family (Aug 04) to ensure we all loved boats.

Did a long weekend trip to

Halfmoon bay

(Jan 05) and anchored out.
Haulout and bottom job at KKMI in San Francisco bay, great price and fantastic service. $1500 if nothing major rears its ugly head.
Jack lines. 2 x 40ft orange with Witchard clips. Don't skimp on these items. I can guarantee you will have paid more when your in the water watching your boat sail into the sunset. $100.
Autoinflate lifevest with built in harness. Dual line harness with 3ft and 6 lengths. A real lifesaver. See the above comment. $300.
New head. This item can cause you more misery in the long term than you can imagine, get it done right first time if you have any sense of smell. $200 if you fit it yourself.
Fixed all the window, porthole leaks with silicon. $10 for a tube of silicon, then wait for a rainy day and make a list.
Extra long shower hose. $20.
New 200' nylon primary anchor rode. $200.
Mirror that fits in winch tops. Allows me to check ahead while behind the dodger going to weather. Kragen auto parts $15.
Shake to charge flashlights. Never need batteries! They float! Perfect for the dinghy when going ashore at night. $30.
New taps in galley. $40
Anchor rode depth markers. I want to know how much scope I have out at any time. Why don't all boats use them? $20
2 new GP27 90ah house batteries replacing single battery that died at Catalina. $200.
Emergency step on swim ladder for MOB. To climb aboard when I fall over the side. $40.
2 new cabin lights. 20W and 10W. $60 and fit yourself.
The packing gland/stuffing box leaked too much and filled up the bilge quickly, it then sloshed around a lot when the boat heeled over. I must get this fixed.
The roller furling unit broke, some bolts worked loose and fell out and the unit jammed. I had to get a tap/die and bring the slots up to the next size to fix it.
Under power the transom sunk into the water a few inches and placed all the exhaust and thro hulls underwater. This created a siphon effect on the bilge pumps and meant the bilge filled itself after the bilge pump ran as the bilge is lower that the outside water level. To work around this I had to drop the engine to idle to raise the transom level and then run the bilges by hand. This problem effected both the electric and manual bilge pumps.
I was sure a 30ft boat would be a handful in open seas. I was completely wrong. For starters, if you're single handing, a small boat is way more manageable. The key item is to be able to reef the main on your own; you will now and again leave it too late (too windy) and need to get the main down fast. A big boat will only give you trouble at this point.
Same with setting/raising the anchor. With a small boat you don't need a windlass and in places like Cojo anchorage where its always windy, you will find yourself running to/from the cockpit/bow in order to get it set right for a nights stay. The smaller the better in this case.
I found my 30ft boat moves around just as much as a 40ft boat in big seas, just differently. Both boats have their advantages and disadvantages on big seas. Once you get your sea legs, you hardly notice the movement anyways.
I expected an islander 30 would be too small for a long trip for a family of 4, but with all of us aboard, we had our space. It was never a problem. And when I was on my own, it felt positively cavernous! There was a place for everything and everything had its place. I didn't need any more room. Having a small boat helps in crowded marinas. It was great the day when I got a slip and the guy with his new million dollar 48ft Island Packet had to anchor outside because he was too big. My boat costs less than some boats depreciate in value in 1 year, and it's just as capable.
I wasn't sure if a 30ft boat would have the right equipment for coastal cruising. It turned out there is enough space, and the ability to fit the latest navigation, safety gadgets and electronics on the boat. The new technology is available to you, not just new big yachts. Finding the right equipment and knowing how to use it is way more important than just being able to pay for it. I see so much expensive equipment just being unused or misused due to ignorance. RTFM!
I thought I would always be seasick when it was rolly and/or rough. When I first encountered heavy seas, I could only sit in the cockpit and stare out to sea to stop getting sick, but soon I was down below fixing the engine in huge swells and making food and reading books underway. It just took time. Spending a few nights at anchor at the beginning helps a lot and doesn't make you sick. It's the constant time at sea that gets your sea legs. Not short trips, but at least 2 back to back days with the boat moving around all the time. At first I found closing my eyes stopped the motion sickness (only if you have help to see where you're going of course!). If you do get sick, just get it out and continue, it's not that bad if you just get it out of your system, you feel better immediately. Just make sure you're facing downwind!
I never used half the clothes I took. I wore shorts and tee shirts nearly the whole time south of point Conception.
I thought my CNG run cooker system would be a problem. 2 gas bottles lasted me all summer! I found refills of CNG at Redondo Beach.
I thought I would only eat canned food. With the help of the BBQ, refrigerator and the gas oven we ate great! It takes a while to find food you like that works on a boat (i.e. lasts more than 2 days) but when you do it becomes much more civilized. Potatoes, onions, eggs, 1% milk, jam, white sliced bread, sauces, cereal, biscuits etc last forever.
A hot water solution when at anchor. I only had hot water when I had shore power. My diesel is raw water cooled and has not heat exchanger option. It would have made showers and washing up easier. I did have a solar shower which I used a few times and used boiled water for washing up.
Fix all head smells. This is my current project. I will conquer it!
Take less stuff with me. The boat was so loaded up, the antifouling top line was under water and caused marine growth on the boot line.
Stop the stuffing box from dripping too much. I have heard good reports on the PSS drip less shaft seal. A dry bilge would have saved me a lot of hours drying equipment out and cut down the boat smells.
California summer weather is very predictable. In fact its one of the reasons I came to California. I have windsurfed most other places I have lived and the problem I had, was finding consistent wind. When I visited the San Francisco bay area on a business trip I couldn't believe how good the weather was. The wind would kick in every afternoon from the NW and blow 12-25knots until it started dying off in the evening. The ocean conditions are exactly the same. Afternoon winds quickly build a big wind chop with lots of white caps and the swells start to build.
The afternoon winds are simply thermals caused by the land heating up. Super clear sunny days with unusually good visibility are always a good sign its going to blow like crazy. Don't head North on days like this. If you live in California you already know the weather pattern, its no different offshore.
If you're used to sailing in San Francisco bay and have been out the Golden Gate on a windy summer afternoon, you have seen as bad as it gets. Once you go round Pt Conception and head east the wind stops. Along most of the southern California coast, over 10knots of wind is a big day and you will often find yourself wanting more wind. Ever wondered why boats sold outside the Bay Area have such huge jib sails? If you head out Northwest of the Channel Islands, the swell and wind pick up a lot. The channel islands shelter the inner waters considerably.
I got caught out in one small craft advisory while on my own heading from Santa Barbara to Santa Cruz island. It was very calm until I got within 10 nm of Santa Cruz Island and all hell hit loose, my anchor came loose on the bow roller from being dunked under too many times and I had to go forward to lash it down. This is when the jack lines and safety harness are worth every penny. I had a lot of fun trying to get the main down as I could only hand start my engine at that time and I needed the engine to get the boat pointed into the wind. At one point a big swell broke over the cockpit coamings and filled up the cockpit like a kiddies swimming pool. Luckily I had put the companionway boards in and it didn't get any water below. I remember thinking how blue the water was on the white gel coat before it drained away. It took a few minutes to drain, I can only guess how many gallons there were.
I single handed the boat on the majority of the cruise. I had the help of one crew member from San Francisco to Santa Cruz and had my family with me from Long Beach to San Diego. All the rest I was alone. I sailed the return trip on my own. The islander 30 is no problem to handle by myself, especially with all the electronic help I have available. It takes a lot of practice to single hand a boat and you have to work your way up to the typical windy afternoon conditions and open ocean swells you will encounter. The key is practice, practice and more practice. Just get out there and try it, bring a friend at first and just have them watch, make lot of mistakes and then work out how to get around any problems you have.
Every boat is different so there is no 'one way' to single hand a boat. Some moves such as tacks and jibes may not be as graceful as you would like single handed, but the main purpose is to do it effectively and safely. Often, the hardest part is handling the boat in close quarters, like coming in to a new down wind guest slip with very little clearance. This takes practice and requires a lot of confidence in your boat handling skills that can only come with time. You will need to do it wrong a number of times to find out what not to do. Practice somewhere you can make mistakes and have a shipmate ready to catch the boat for you if it goes wrong. Only then head out on your own.
Just from a practical standpoint, being able to single hand your boat is something every captain should be able to do from time to time. Maybe your crew is out of action for some reason, maybe you get left in port by yourself and need to get home. Even something simple like moving the boat from your slip to the pump out and back without help is so much more convenient if you can do it alone.
As a single hander, you need to like your own company. Similarly you need to be able to get by without someone else's company. You either do or you don't. I cant give any advice here.
I have never met so many people or been given so much help as when I'm single handing a sail boat. It's a wonderful feature of human nature that you only see when you're on your own. I can't recommend it enough for that reason alone. A single person with a purpose is so much more approachable to strangers and they seem to go out of their way to assist you. Bring a friend with you and that feature disappears.
When you're on you own you can come and go as you please. You only have to discuss your plans with yourself. You will find you can always have as much company as you want due to the reason above.
You only have to worry about yourself when the going gets tricky. The point here is that the captain ends up doing most of the work when trouble rears its head, and having to worry about other people only adds to the load. If you have a small boat that you are familiar with, you can easily do every chore on the boat anyways.
Have family and friends meet you and sail with you when you're in a nice location. This way you don't have to drag people thro long & rough passages and put them off for life. Make sailing enjoyable for your friends and they will come back for more. I see so many Captains doing the opposite of that, it seems they have to impress upon their colleagues how tough it is to be a sailor and make their new crew suffer for it.
It's more peaceful / relaxing on your own on long passages. Unless you really know someone, you can only talk for a few hours before the conversation turns to rubbish and causes issues. I can't imagine having a week long passage with someone who I found annoying. That's when the boat will seem small!
I find I am much less lazy when I have no one to help me out. I guess there is no chance I can palm chores off to someone else. That makes it easier for me to get going on things. For the same reason I find I'm much more efficient and tidy on my own.
Your not really single-handing as you have your crew mate 'Otto' with you at all times. Otto the auto pilot will allow you to raise, set and reef the main, set the anchor, enjoy the scenery, have a rest on long passages, make dinner and take a leak underway. Its one of the most important gadgets you can have.
The trip back from San Diego took 9 days, 2 of those were thro the night. I was single handing so it would be easier and shorter if you have crew as you could do it non-stop. The IB30 had no problems at all with big seas, it's a very capable boat that I'm sure could go to Hawaii and back if you wanted to.
The moment I turned to head home, I found myself on a mission and discovered deep reserves of enthusiasm and energy. I had achieved everything I wanted to do on this trip and was ready to go home.
The only bad stories I have heard are when people are on a tight schedule and take unnecessary risks. That is they head out on a passage during unsafe weather conditions. Give your self as much time as you need. Have all your excuses ready for not being home on time. It could save your life.
Most people I met said they would never do the trip alone, but I found that if you have the time and your boat set up, its very doable, In San Diego I got quoted over $3000 to have the boat unstepped/hauled/trucked/refloated from San Diego to San Francisco. In the end the trip north was very enjoyable. As you can imagine, it felt fantastic as I entered the Golden Gate bridge back into San Francisco bay. I definitely got into the long passages and night work and actually found it easier than coastal trips as you have so much space to work with. After a while you can behave on the boat underway just as you do at the weekend at home. It just takes time to acclimatize.
"A journey of a thousand miles starts with the first step", cast off this week!
If you have any questions or suggestions, please email joe@inetd.com
or write your anonymous comments in the box below and press 'Submit'.

I would really appreciate your feedback.

The message will be send directly to my Treo600 PDA phone
which provided me with Internet access throughout my entire trip.